HANGOUT WAS THIS WEEKEND! It's my favorite except for the massive abstract sunburn on my back. I loved sipping pina coladas with my feet in the sand all while watching some of my favorite artists. Hangout was my favorite lineup this year so we're gonna walk through some of the best acts.
Day 1
Oh no, Day 1, I woke up to massive amounts of thunder and storms so the fest was delayed a lot. We waited in the Rite Aid parking lot anxiously checking Twitter for the news and hoping the acts would still go on and not just be cancelled. (I can't miss my baby BORNS). Gates opened and I anxiously waited in line hoping i would still get a good spot for PHASES.
Phases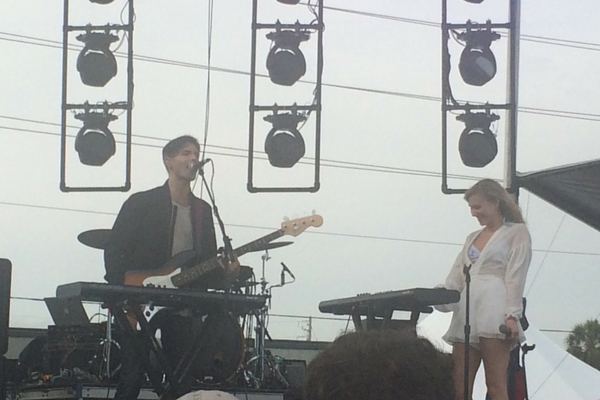 Phases were amazing, we've talked about them a lot previously, but their show is just a party. Z Berg is so adorable and you can tell they are all amazing friends and it really warms my heart to see them on stage.
BORNS killed it too but I'm tired of talking about him.
The Weeknd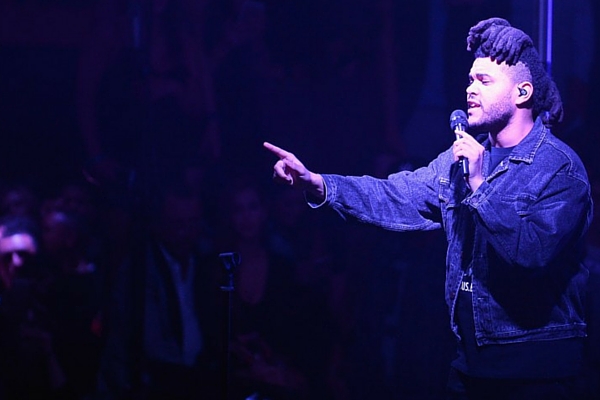 The Weeknd really is an incredible live performance. Not only did he do some deep tracks, but he did "6 Inch" from Lemonade, he did "Low Life", and his voice really delivers. I love his dark vibes, like yes keep telling me about how you might not make it after all the drugs you do. I'll always listen to your addictions, they are fascinating. I wish less dudes would try to dance with me during the show, I know this is some sexy music but leave me alone. Guys, just FYI, a girl alone at a festival is not super lonely, let me watch Abel in peace please.
Day 2
One major problem I had with Hangout Fest was their insane security, I completely understand and agree with tight security at festivals, but limiting the amount of sunscreen I can bring in is a recipe for disaster. I'm not putting vodka in my spray sunscreen guys, I just burn EASILY. I also felt super lame sneaking advil in my bikini, if I got caught SNEAKING advil in I would look so lame. I also think all festivals should allow us to bring in our own food because $8 for a slice of pizza is insanity, I should have the right to snack on a granola bar instead of paying your insane prices.
Leon Bridges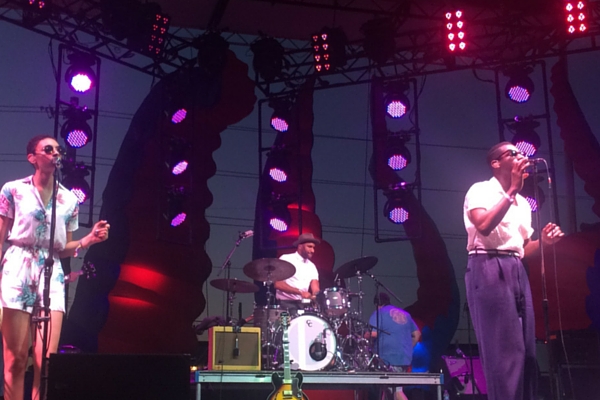 Leon has some new moves. I feel like I've followed Leon's career since his local Fort Worth shows and to watch him grow and develop as an artist has been a real treat. No one is more deserving of all this new-found recognition than Leon is. His smooth vocals and tight-band are amazing everytime.
Panic! At The Disco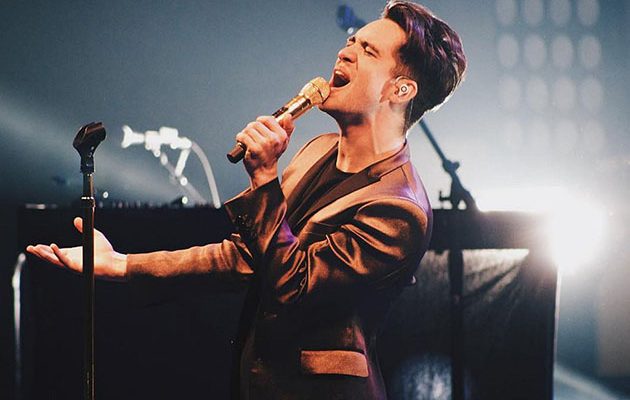 GUYS PANIC IS BACK! So i didn't get into their latest album, because like a lot of people my age, I lived through the high school experience with Panic! At The Disco, it was one of my first concerts to go to without my parents. I forgot how amazing Brendon Urie is live! He has some crazy vocals, they did a "Bohemian Rhapsody" cover that blew my mind, and the new stuff is actually really good, I'm a panic fan again.
Day 3
Ahhh sunburn, hello old friend. "It's not a vacation until Emily gets a sunburn" – Sam Treadgold
Strangers You Know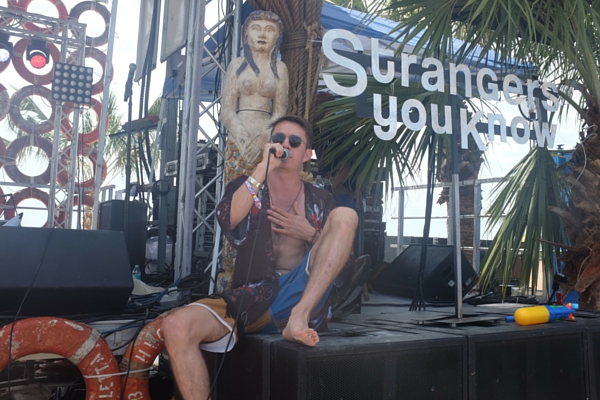 I literally ran into Grady Lee and he was so endearing asking me to go to his show that obviously I went. I already had them on my lineup after seeing their amazing show at Coachella and I know this band is going to blow up. I loved Charice, the inflatable swan and they were so friendly with the crowd and just seemed like fun guys.
Grimes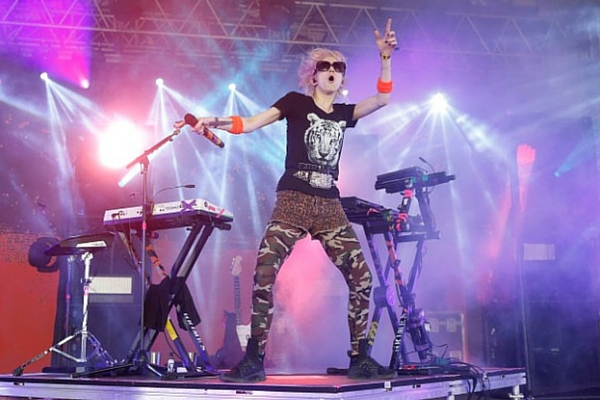 Grimes, my love, I spent most of my day waiting for Grimes if we're all honest here. I think the real joy of the show was watching people that were unaware of Grimes during the show. When she broke into "Scream" they looked terrified. She also threw out these giant inflatable roaches into the crowd. Literally my nightmares. Very mixed emotions from the fear of the giant roaches and the joy of watching Grimes. As usual she looked like a mad scientist behind her boards with her phenomenal dancers and Hana breaking out into their intricate dance moves and general insanity. If you've never seen Grimes live I suggest you take any opportunity you can find to see her. She is a psycho, in the best way possible.
HAIM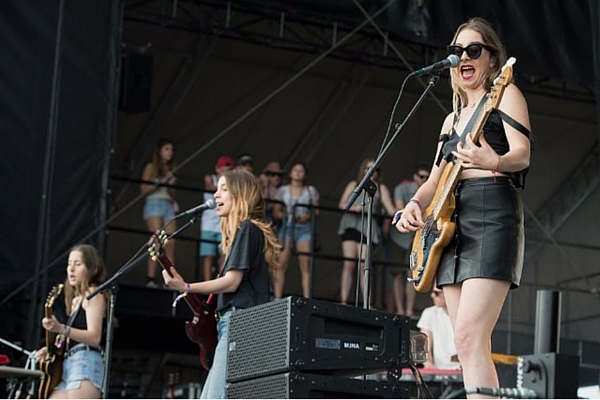 HAIM will have new music soon, is what I gathered from this experience. Also I forgot how much I love HAIM, it's been some time since their debut album and the new songs they played sounded great. CAN'T WAIT HAIM. They did a stellar "I Would Die 4 U" cover, one of my favorite Prince tracks, and even though it breaks my heart to hear Prince covers (he notably hated covers) I actually loved the heart behind this one, I've heard HAIM talk about Prince a lot previously and you could tell it came from a good place.
Courtney Barnett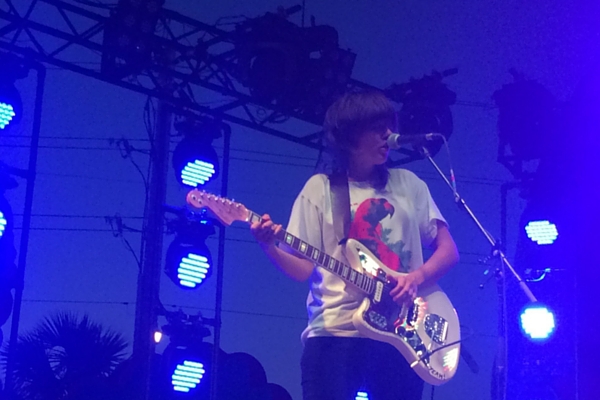 Courtney is incredible, her clever, intense lyrics and dead-pan singing make her a stand-out. There is something so amiable about how shy and confused she seems to be while on stage. It's like she's still getting used to being a rockstar. The whole front row was shaking from all of the jumping.
Florence And The Machine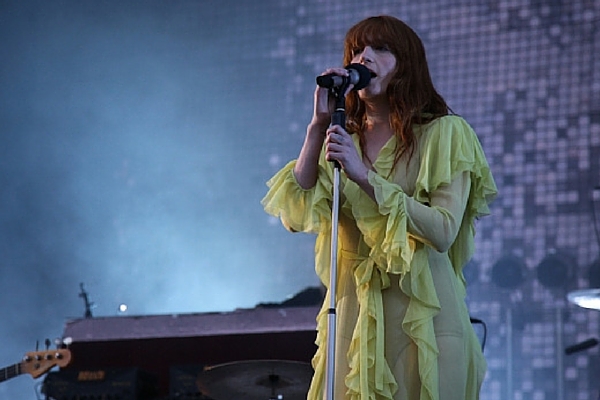 Despite feeling like I've seen Florence at every festival there's ever been, I love it everytime. I think she's the queen of festivals. She moves like a damn goddess on that stage. She's so ethereal and her voice gives me chills. She shouted over us, "I wrote this song when I was scared and hungover. I felt like I needed a choir of angels to absorb me." So we all sang with her as she twirled and leaped on stage. It was a beautiful and poetic way to close out the festival. Then the fireworks went off and "Sweet Home Alabama" started playing and I was brought back to earth.
[widgets_on_pages id=Emily-Treadgold] [adsense]
[adsense]