Leah Kate is exactly the kind of pop artist we need right now. She balances her IDGAF attitude with this vulnerability that we can all relate to. We talked to her about her new song "Bad Idea" and how she's staying sane in self-isolation.
How did you get started in music?
Leah: I started singing at around the age of 5 or 6 and it felt right. Music has always been my thing and what brings me the most joy.  
Tell me about your song "bad idea" - what's the story behind it? 
Leah: I wrote it with some of my favorite collaborators, Hayley Gene Penner and Louis Schoorl, who also worked with Lennon Stella and Charlotte Lawrence! I walked into the studio knowing I'd write a sexy, luscious forbidden love song off the back of one of my relationships. The song is obviously about wanting someone even though it's a "bad idea" but it's also about boundaries and sometimes trusting your gut and having fun by crossing them!
I love how you made the lyric video! How does it feel to release that into the world?
Leah: Thank you! It feels amazing releasing it. It's a vibey video which really gives you a feel for the song and my emotion in it- free spirited, going with the flow and just being chill. I'm super excited to release it! 
How has this pandemic affected your creativity/music? 
Leah: In a great way. I have been writing so much and also enrolled in an online writing course which has been so inspiring. I've written my favorite songs ever during this time and I can't wait to put them out.
What has been inspiring you lately?
Leah: Nature, thoughts, objects, love interests, my online writing class, and a lot of baking!
What has been the biggest challenge for you in the music industry?
Leah: Navigating it- it's a tough world. There's always pressure whether to work with top writers/producers or getting featured on certain playlists. I like to remind myself that I'm in it for the art and the joy that it gives me while the other stuff is just extra and fun. 
What's your best piece of advice for young women?
Leah: Know your worth. Be strong and confident. Fuck what anyone thinks!!! Go after it.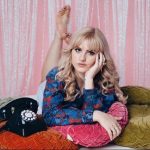 Emily Treadgold