Lisa Remar's dreamy voice and lush soundcapes feel like an escape into another world. Her song "Fell Into" is so hypnotic, and we can't stop listening to it. She's definitely someone you need on your playlist right now. We talked to the up and coming artist about her inspirations, sexuality, and Fiona Apple.
How did you get started in music? 
Lisa: I get asked this question a lot and I feel like my answer is always changing because music has always been a part of my life for as long as I can remember. I felt very isolated as a child and had trouble making friends. I honestly discovered my love for singing and songwriting only because I yearned to be like the pop stars I looked up to growing up. I listened to a lot of Alicia Keys, Mariah Carey, A Tribe Called Quest, Wu-Tang, MF Doom, J. Dilla etc. When making my own music I refer to great storytellers both musically and lyrically.
Tell me about your song "Fell Into" what's the story behind it? 
Lisa: I wanted this song to be a little more empowering through the production. It was written when I started exploring my sexuality and is inspired by my dating experience during that time. I consider myself bi and one story that sticks out in particular is when I met up with a girl I was feeling. I'd been hurt before and dating is so intimidating—but the whole thing looking back was really quite exhilarating. It turned out to be a very awkward date and she pretty much ghosted me. I look back on that experience and the biggest lesson I learned is that I should have just been myself.
Hurray for bi women! I love that you're owning your sexuality, how does that feel?
Lisa: It feels like it was about time. I highly recommend it - owning yourself.
How have you been staying creative/motivated? 
Lisa: I made it a point to rest over the holidays to prepare for the release of my EP. I've been listening to a lot of new music and collaborating with my friends who are badass creatives themselves.
What else has been inspiring you? 
Lisa: What's been one of the biggest challenges in your career? Honestly, dealing with Covid as an emerging artist has been really tough. On the one hand I've been pushing myself creatively and making a lot of music, but on the other it's hard to come to terms with the fact that I can't perform live and interact with my fans in real time. Livestreams are great, but nothing replaces that genuine human to human connection.
What's your best piece of advice for young women?
Lisa: Watch this video of Fiona Apple's acceptance speech at the MTV music awards…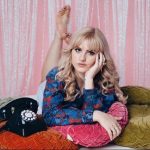 Emily Treadgold