In 2015, I covered Pitchfork Music Festival and I remember seeing Shamir on stage with this crazy energy that had the whole crowd under a spell. Shamir has kept that energy his whole career, always pushing boundaries and using captivating visuals unlike anything we've ever seen before. I can't think of another artist quite like him. He's completely fearless in his art. We talked to Shamir about "On My Own" and the challenges he's faced in music.
How did you get started in music?
Shamir: My aunt used to make music with her friends when i was really young and i thought they were all so cool and wanted to write songs like her. I was really young like 5 or 6, then when i got my first guitar at 9 it just became my life.
Tell me about "On My Own" what's the story behind the song?
Shamir:Well it has two parts, the instrumental poured out of me when i was in Toronto the fall of 2018, then close to a year later the lyrics and melody poured out of me during a time i was processing a break up, and they both just happened to fit together perfectly.
The video is so amazing, can you tell me about the vision behind it?
Shamir: I knew I wanted it to look old, but also new. I accomplish that look by using a vintage 13mm lens on my DSLR. I also knew I wanted the color pallet to pop as well and let the clothes, hair, makeup, and overall aesthetic do the work so i can keep it simple.
Why was it important for your outfits to be second-hand clothes?
Shamir: It wasn't specifically important, I just love to shop second hand, always have. I rarely buy new, as a way to reduce waste, but also vintage things are just made better.
What has been one of the biggest challenges you've faced as an artist?
Shamir: Racism, transphobia, homophobia, constantly being talked over, and not given the same room for experimentation and use of avant garde ideas as my white contemporaries do.
What has been inspiring you lately?

Shamir: Cinematography and getting the most out of my camera.
What advice would you give to your younger self?

You're talented enough to say no if you want to.

What's coming up next for you?

Shamir: I guess just the record and shows If things start to look up as far as touring next year.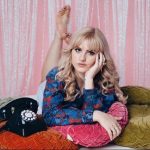 Emily Treadgold