Tems is a songwriter, producer, and vocalist who completely redefined the Nigerian music scene and her blend of alternative R&B and neo-soul is absolutely hypnotizing. We talked to her about what keeps her motivated and her debut EP.
How did you get started in music?
Tems: Music has always called to me ever since I was about five. I've always loved music. It's always been natural for me. And that was just the start of my life in music.
Tell me about your debut EP For Broken Ears, what's the inspiration behind it?
Tems: My debut EP 'For Broken Ears' is a calling to people that are yearning for self-awareness. It also details my journey to self-awareness. 'For Broken Ears' is for everyone that has the capacity to free themselves of mental conditioning. It is for healing. And it is also for strength, and to encourage people that they can be who they are called to be, regardless of everything we've learned in their lives.
What is your creative process like? How has it changed with the pandemic?
Tems: I really just let my mind flow, and the pandemic has kind of tuned out a lot of noise. I find myself being more able to focus on myself, and my inner being. And so what I do is just let myself go and express myself to the fullest of my ability.
What has been the biggest challenge for you in the music industry?
Tems: Forgiveness.
What keeps you motivated?
Tems: God keeps me motivated, my calling keeps me motivated. The fact that I'm not doing this for myself. I'm doing this for my people. And I'm also doing this for the world.
What else has been inspiring you lately?
Tems: Nothing else. God is my whole life, I see him in different people that I encounter every day, I see him in my environment, I see him in my life, in the lives of the people that I know, in the experiences that I have and that they have, and that in the experiences that we are all having as a country, as a nation as a continent, as a people. And those are the only things that keep me going.
What's your best piece of advice to young women? 
Tems: Don't lose focus! Always stay alert. Keep on yearning to find more of yourself without using anybody to define who you are because you are a person first and you have a purpose. And you can shine if you only tuned in to yourself, to the inside to your spirit.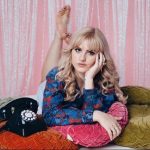 Emily Treadgold