Zolita has been making waves in the music world with her shimmery melodies and authentic lyrics, not to mention her gorgeous visuals. We caught up with her off her tour with Bebe Rexha, getting darker with her music, and her message to her fans.
How excited are you to be touring with Bebe Rexha?! How did you prepare and what were you most excited for?
Zolita: I am SO excited and happy. Bebe is an actual dream human, and I've loved her music for so long, so getting to see her show every night is unreal. I was definitely most excited about that - and getting to play cities I've never been to! To prepare… a lot of costume prep and vocal prep, and Pilates!
Tell me about your new song "Grave" What's the story behind it?
Zolita: Grave is one of the darkest releases I've put out since my album Evil Angel. I feel like it marries my new sound and references my old stuff as well. "Grave" is about someone you love really fucking you over… and knowing you have the power to kinda ruin their life with the information you have but choosing not to.
I love being petty, but why is it better to be the bigger person after someone hurts you?
Zolita: Oh, trust me, I have had many petty moments! But I think not giving that person any of your energy or mental space is the most powerful thing you can do.
What has been inspiring you lately?
Zolita: Seeing parts of the US, I've never been to on this tour! Certain parts of Oregon were so breathtaking and inspiring. Also, seeing Rina Sawayama at Gov Ball was HUGELY inspiring.
What's a song that's been on constant rotation for you lately?
Zolita: "True Blue" by Boygenius!
What's the message you want your fans to take away from your music?
Zolita: To embrace and be proud of their authentic selves - and not shy away from any emotion. Even the uncomfy ones!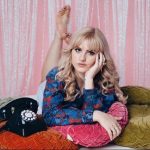 Emily Treadgold