"It feels like I finally made it to the summit on a big mountain!" proclaims singer-songwriter EBEN. His latest EP-- Honeydew-- has been long awaited by a both growing and eager fan base. It's safe to say that this new project has showcased not only his ever-evolving style, but his truth and passion. He notes: "I've made my fans wait so long for this music so it's really satisfying being able to give them something that has come from my heart and soul."
Watching EBEN develop over the past few years has been an experience of growth for not only him, but his fans who seem to be growing up alongside him. EBEN can be characterized by his unwavering work ethic. He spent years working on Why Don't We's team, learning the ins and outs of an industry that often bests other musicians. His dedication to his craft has clearly given him a well-rounded perspective into what goes into making a hit.
EBEN showcased his honesty, saying: "There are many things that happen and no one ever sees. That being said, I have so much love and respect for my team and how much hard work they put in all the time."
EBEN Connects With Fans On Stage and Off
While opening up for Why Don't We on their 8 Letters Tour, we had the chance to catch him at a few shows, seeing his talent firsthand and live on stage. Every performance seemed to grow with anticipation and pure energy. He never faltered in his unwavering dedication to giving the fans a night worth remembering.
Never forgetting his Cincinnati roots, EBEN has toured the world, always proving to radiate love for his work and his fans anywhere he goes. "I love doing my meet and greets!" he says. "I actually get to have a personal conversation with them face to face. I hold those moments close to my heart." 
And you can see that energy live. As EBEN bounces from one end of the stage to another, he seems to push himself to give this show ten times more energy than the last. Every moment seeing EBEN perform radiates a balance of empowerment and the sensation that for this second you are free.
Fans' faces light up as EBEN plays old favorites like LAMBO or That's Alright. The same fans become vulnerable at the first note of Freefall, where they are able to connect with this artist in such a powerful way. EBEN isn't one of those artists that you feel like you only ever see behind a screen, he's more. To his fans, he is a friend and someone they know will understand them.
When EBEN performs live it's clear that he feeds off the energy of those around him, magnifying what the crowd gives him tenfold. This connection goes far beyond the stage; it's evident in real life conversations and online.
EBEN navigates and balances this both gift and responsibility well. "I'm very honest with my fans, so I let them know if I need to take a social media break. I think everyone should take a break every once in a while and try to disconnect a little bit."
His Talents As A Singer-Songwriter and Producer Are All Evident On Honeydew
When he's disconnecting, he's also writing masterpieces like the Honeydew EP, which is out now. He admits that his writing process is reflective of his mood. However, he explains that: "Most of the time I will lay down melody ideas first and then put lyrics to what I lay down as a scratch vocal. Then sometimes I will write out a whole song and then add the music to it afterwards."
The latest of EBEN's projects, Honeydew, radiates the type of feel good yet insightful energy that we all need right now. It's very characteristically EBEN, but also shows traces of the obvious growth he's gone through over the last through years.
While you'll need to hear it for yourself, EBEN explains, "I think what differs this project from past ones is the growth in what I'm talking about. I have grown up a lot since my last EP and it really shows in the music. A bit of a mature feel."
And it's true.
"Wake Up Call" opens the EP as an attention grabber, detailing an honest realization. Each element of
the song overlaps to transport listeners to both a dream state and a mirror of the sudden undercovering of truth. Not only can you vibe along to this, but you can get lost in its hypnotic symplicity.
As the lead single off the EP, "Sad Song" has already proven itself to be a hit. Eben says that "The inspiration came from a relationship I was in and I realized that there were a lot more negatives going on than positives. I needed to clear my head and get a fresh start."
Perhaps the most noteworthy song from the EP, "Bad Drug", also happens to be EBEN's personal favorite. "It's such an anthem and I can't wait to sing it live with all my fans," he says. Knowing EBEN's performance style, it's easy to imagine the way he will captivate the crowd with this beautiful song that showcases his authentic voice and genuine talent.
"I think what sets me apart is the depth of types of music I can do. I have so many different vibes but at the same time when you hear it you'll know it's an EBEN original," he says. And each of his different vibes are apparent in Honeydew.
This Is Only The Beginning For EBEN
For some artists, staying motivated can be difficult. EBEN even admits that "It's easy to get discouraged, the ups and downs take a toll." He's spent this year focusing on his mental health
and stresses the importance of that. However, he also reveals that "I actually have a list of personal goals on a dry erase board in my room!"
If this EP alone is indicative of EBEN's future as an artist, then it's clear that he's going to keep climbing. As his debut EP under Atlantic Records, it truly seems to be the right way to bring in a new era. But don't take it from me, Honeydew is available everywhere now along with the music video for "The Kids Are Alright".
And to any of his fans out there who look up to him, EBEN leaves this message: "Never stop working and never let anyone tell you that you won't achieve something. You make your life path, so just focus on your goal and always remember the reason you fell in love with music."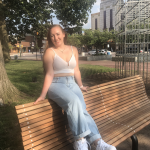 Alex West
I have a split in fangirl tastes. On the one hand, the moment One Direction announces a reunion tour, I will empty my bank account to go. On the other, I'm mourning the loss of Warped Tour. Recently, though, life for me has been all about traveling, watching shows, and writing. It only seems natural that I would find my way to the tour life since my mom raised me on Rick Springfield and NKOTBSB.I'm a big believer in fangirls and the influence we have in the world. As a political science major, I try to find that slant of empowerment in everything I do and know that music can change the world.
<p class="p2">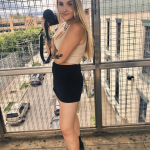 Ali Fitzgerald
Remember the One Direction era when we would all record the whole entire show to screenshot that split second of eye contact, a signature dance move, or facial expression? I've made it my mission as a photographer to capture those moments in HD. From the barricade to a photo, the fangirl travels with me. Every night I get to deliver fangirls to moments they love the most, I know I've found my calling!