If I had to sum up what all of my music taste has been in 2020, it would be the word "longing." It's like I'm craving everything that we can't have right now. I want to feel all of the feelings I felt when I was with people, and I'm looking for any amount of emotions to fill that void.
Taylor Swift - Evermore
2020 would be the year for me to confront my Taylor Swift feelings finally. Evermore is a poetic masterpiece. Swift's ability to write from all of these different perspectives is incredible. It feels ethereal and magical but has this sense like you can never find true happiness, and maybe you're getting in the way of yourself. Always the loner with champagne problems, and the love I can't just get right. We're just reflections of which Taylor Swift song we love the most, right? (I'm Cowboy Like Me, and everyone putting that song at the bottom of their lists is just wrong). I also knew Samantha would have this on her list but had to talk about it anyway. That's how big of a deal this is to me.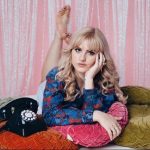 Emily Treadgold
LEON - Apart
LEON's voice is just heavenly, and the fact that this is like the ultimate pandemic breakup album cements this in place for me. Even the title "Apart" is so representative of this year. You feel everything so much, but the melodies and the cinematic production are this weird amalgamations of soaring through the air and crying in your shower, Basically, glitter-soaked tears. I want to cry, I want to dance, and I want to confess my love for the one that got away. LEON seems to possess this perfect ability to pinpoint an emotion. It's cathartic, self-aware, longing, and hopeful all at the same time. And it breaks my heart.
Chloe x Halle - Ungodly Hour
This album is transcendent. Chloe and Halle have the most genetically perfect voices for complimenting each other. You cannot beat blood harmonies. The stellar production, the dreamscapes, the building beats into unforgettable choruses. This album circles in my brain all day. Chloe x Halle are genuinely aliens. They can't be of this earth, I swear. "Ungodly Hour" and "Forgive Me" could be looped all day, and I'd never complain. Each song radiates cool-girl energy, and I can't get enough of it—a masterpiece.
Samantha Fong
"At 15 years old, I begged my mom to take me to Walmart to get Taylor Swift's debut deluxe album and I never turned back. This was my very first entry point to stan fandom. Growing up in Memphis, Tennessee I was exposed to a ton of music - from rapping 3 6 Mafia to bopping to Justin Timberlake's solo discography. Now, in LA have a day job working in nonprofit development, but by night, I'm a full-fledged fangirl. I'll listen to generally any genre, but I'm a sucker for a good pop song. If you ever need someone to scream sing Carly Rae Jepsen's E·MO·TION with, I'm your girl. No, I still have not gotten over the One Direction hiatus. Please continue to respect my privacy. Twitter : samfonggg, Instagram : samantha_fong"
Three albums? In a year with no concerts and an overflowing amount of new music, I have to pick just THREE albums? Well. Here we go. 
Taylor Swift - Folklore
I've discussed this album in great lengths in two previous posts, so of course, it's my number one for the year. As stated before, this was the icing on the cake for me as a Taylor Swift fan. I expected re-recordings, sure. But not a surprise album, let alone a follow-up sister album. She continues to surprise me and this felt like a personalized note and hug from her during a year when you rarely had both. 
Taylor Swift - Evermore
Naturally, right? But this album brings me what I experience when I listen to Taylor's previous eight studio albums. "Gold Rush" takes me through the journey of a blend of 1989 with Speak Now and "Closure" could very much be a rep track. The parallels are also a critical point in Taylor's storytelling. It's like the 16-year-old hometown girl you met in Taylor Swift, and even if she was you, is finally growing into her skin. In a year where I experienced uncertainty, highs, and lows, it felt good to have a familiar friend by my side. Taylor and this album provided just that. It also doesn't help that Olive Garden had a mention and now we're social media pals a la "No Body, No Crime." 
Niall Horan - Heartbreak Weather 
My earliest pre-quarantine memory comes from getting the advance and spending a Tuesday afternoon listening to this album on repeat. Only to somehow win a meet and greet with THE Niall Horan and Los Angeles entering lockdown. I've read other accounts on the internet of how their songs made them reference upsetting moments this year, but even as this was some sort of foreshadowing for me, I can't help but experience bliss when I listen to it. This album proves it's no sophomore slump for Niall and there's really nothing as exhilarating as the drum kick as you hit play and "Heartbreak Weather" begins. Noteworthy favorites also include: "Small Talk" and "New Angel."