Oh god, South by Southwest is next week. As a SXSW Veteran, I meet this season with equal parts excitement and dread. There is so much going on and so many parties and it's just madness.
Spreadsheet Prep
As soon as that schedule drops I start my spreadsheet. Which I will give you freely. Mine is a little complicated because I have to set up interviews and press days, but I like to keep my options open and just RSVP for every damn thing that looks vaguely interesting. You MUST RSVP quickly. I have a badge this year and it makes me feel like a queen but still just RSVP okay? I like to download various spreadsheets from other aficionados and kind of cross examine lineups. I like to have backup showcases in case I can't get into one. I listen to NPR's Austin 100 when it comes out to see where they stand on the lineup. Highly recommend. Then I like to bother my friends by sending them my spreadsheets and making them try to sync their time up to mine, but south by is a competitive game and I'm not here to have fun.
Some great social links
Dirty SXSW
When Where What
SXSW Unofficial
Lifestyle Prep
I've been deathly ill for SXSW almost every year. So, now in the weeks before I try to keep myself relatively healthy. I take every immune booster known to man regardless if I think it's a scam or not. I try to sleep (it doesn't work). I plan my lewks. You ladies know what's up. Clothing-wise I prep for the rain and some chilliness. I wear heeled chelsea boots to equally protect my feet and give my 5 foot frame a little boost. I can run for miles in these babies. Equally good for feminist marches and concert attending. I tend to stick to my exact uniform of a-line skirts and crop tops in various combinations with my Doing It To Death jacket so people can find me easily. I like to think this combo goes #daytonight pretty well and I feel totally comfortable pushing through crowds and looking dynamite on camera.
Work Prep
We're working with a video company this year that films concerts and interviews in 360 degree. We're super busy setting all that up. I'm prepping for my interviews and studying up on the lineup and some potentials. I also have some portable camera gear I'm using for some lifestyle shots. Since this is largely networking for music I get all those business cards ready to whip out at a moment's notice and I practice saying, "We're a music site for fangirls and we believe young women's opinions on music matter." Nailed it. I have a separate list of people I want to meet and I've emailed them in advance about my schedule and meeting up. Personal relationships are key to your dream interviews.
WHAT IS IN MY BAG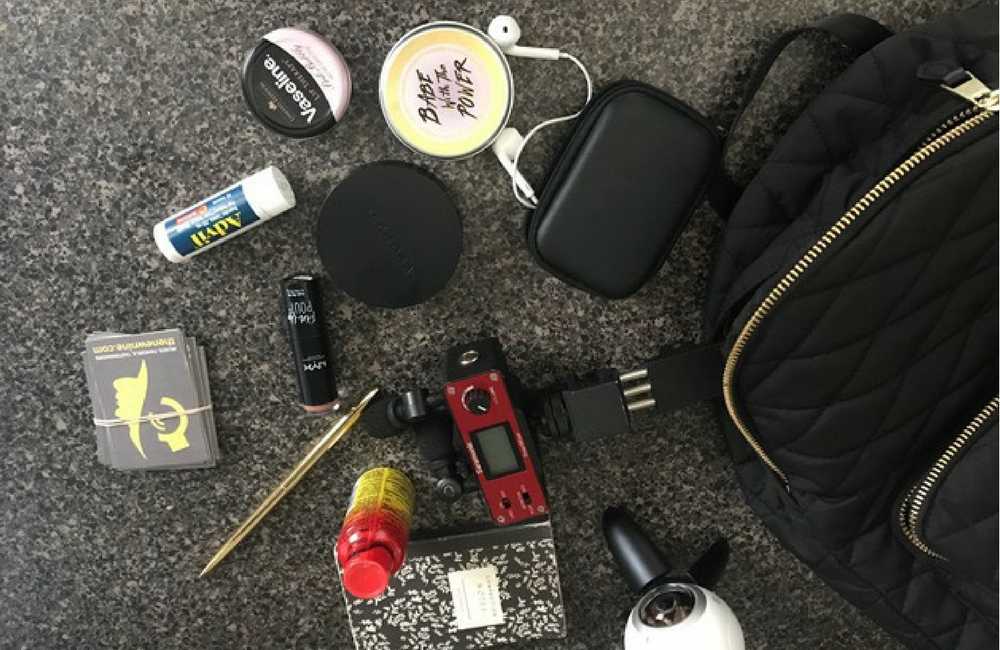 5 Hour Energy, like a ton of them, I think I take 2 day
Ear plugs – after my ear problems this year, this is just necessary #ImOld
Pens – I'm a traditional girl, I like jotting things down
Notepad – see above comment
Backup Chargers (not pictured) – probably 2 minimum. Long days + social anxiety + snapchat = dead phones
Lovability Condoms – CALM DOWN guys, I always have my cute little feminist condoms with me, they're for a friend
Makeup – I take powder and lipstick everywhere I go. I'm in love with NYX's nudes.
Cards and stickers – boss babes unite
Advil – I get some mean headaches
9V Batteries – for my weird video gear
A fun video thing we finagled
360 cameras
Follow us on Twitter and Insta: thenewnine9 to stay updated during SXSW!
My first lil video at SXSW for a media outlet that doesn't exist anymore, so innocent, so full of life:

[widgets_on_pages id=Emily-Treadgold] [adsense]
[adsense]