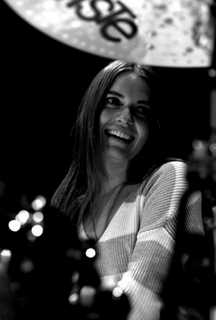 I you've seen BØRNS live you're very familiar with Kristen Gleeson-Prata. The sweet, smiley but hard-hitting drummer decked out in the coolest outfits you've seen. "Being in BØRNS has completely changed my fashion sense," she laughs, "I'm so grateful."
I've always admired Kristen's attitude on the drums. She just brings so much life to the music and the stage. I remember her coming out on stage at Hangout Fest and everyone just yelled her name and her face just lit up.
Kristen grew up playing multiple instruments but her life was forever changed when her dad took her to see Billy Cobham and that was it for her. She says, "Once I started playing I really didn't think about anything which eventually I started kicking myself for. I just knew I loved to play and I immersed myself in it."
When she was in highschool she played in orchestra, marching band, she had private instructors, anything she could do. When it came time to look at colleges she thought, "Oh I like playing drums, I'll do that." She adds, "I didn't think about how hard it would be or how to do it or how to pull it off. I just auditioned for a bunch of music schools and got in."
Kristen ended up at the esteemed Berklee School of Music. She says, "In college I learned as much as I could. I learned what I was good at and what I wasn't good at and especially what I liked to play."
Even though she says she did these things without thinking through her career, I have to say, that's what I admire about Kristen. If everyone thought about doing the sensible thing we probably wouldn't have any musicians or artists. It's okay for your passion to guide you.
After college she knew she had to make a move and the only options were New York, L.A., or Nashville. She had more contacts in L.A., so that's where she went. She knew someone who ran a music school and became a receptionist there and going to auditions at night.
She says, "I would walk into a room of 98% guys and basically try to convince the people to let me play and show them I'm worth of their time and their referral. You're going in blind, knowing nobody and convincing you to help you."
This was totally against her nature. Networking in any situation is something all postgrads can all relate to, especially when you have to convince people that you're talented and worthy of their time.
She says, "I was so exhausted from doing something so unnatural. I remember calling my mom just overwhelmed thinking 'I can't do it anymore'. You're just there with hundred of people trying to get the same job."
However, she stayed motivated. She ended up getting an offer from the music director who ran the auditions she was going to. It was an audition for an all girl band for Bonnie Mckee, but as fate would have it Kristen was touring with someone else at the time. She says, "It was almost like wrong place at the right time," but after that initial email, Kristen kept following up and asking for more auditions.
That's when it finally happened. She got the gig with BØRNS, and it's been nonstop since. They've been touring extensively for about two years. What I find so interesting is how Kristen works with the music to translate it into the live show we all know and love. It's a difficult and interesting process.
She says, "[Tommy English] and Garrett make those songs in the studio usually just on a computer but not necessarily with a drum set. So he relies on me to listen to what he creates and bring it to life. It's a fun process."
If you've ever been to a BØRNS show, the popularity and intensity is almost shocking. I've seen lines wrapped around venues and fans that will wait there for hours and hours. She laughs, "I'm not surprised, Garrett is amazing, the music is just so good, it's wild to think of our first show in LA for 8 or 10 people and see how it is now."
Even from an outside perspective, it's been amazing to see the growth. Kristen says she can't ever really complain because the music and the people have always been good and that's everything to her.
She says, "At first the budgets were lower and that determines the vehicle you drive and the hotels you stay in. Even when it was rough I was just very very happy because I was doing what I loved and very slowly things got easier and comfier. Traveling the world has been a dream of mine and for music to allow me to do that, I'm super grateful."
Her best advice to young women who want to be badass drummers like herself: Work your butt off, don't give up and don't let anybody tell you that you can't do what you want to do.
Read more about Kristen on her site, and duh, go see her if BØRNS is touring again. Crossing our fingers that there will be a new album soon.
Watch her inspiring talk about her career and following your passion:
[widgets_on_pages id=Emily-Treadgold] [adsense]
[adsense]