Chloe Chaidez is whispering to me the entire time we talk. She needs to save her voice for the show. She whispers, "My dad was a musician, a drummer, and he introduced me to a lot of great bands. I was a gymnast so we'd have these long drives to my gym, and he'd play records, and it was something I really gravitated towards."
Chloe has been performing for half of her life. She opened for Conor Oberst when she was only twelve. She's grown so much as a musician and she's only getting stronger.
She says, "I think having perseverance in this industry is difficult, so as far as maintaining your vision and flow, I think you have to make small goals for yourself that you can achieve or at least come close to achieving. Then you continue to make and achieve those goals and pretty soon you look back at your year and see what you've accomplished. It's all about those small goals."
Those small goals would seem like huge milestones for anyone else. Her lyrics are observant, relatable, and relevant. Their song "Steal The Night" is topical and poignant. Chloe says it's inspired by recent events and the lyrics really show her growth as a songwriter. She sings, "For every boy who likes a boy who likes a girl, for every dreamer crucified while casting pearls, for every soul that's crushed, as day turns into night, for the men of faith who died, and the angel that takes flight."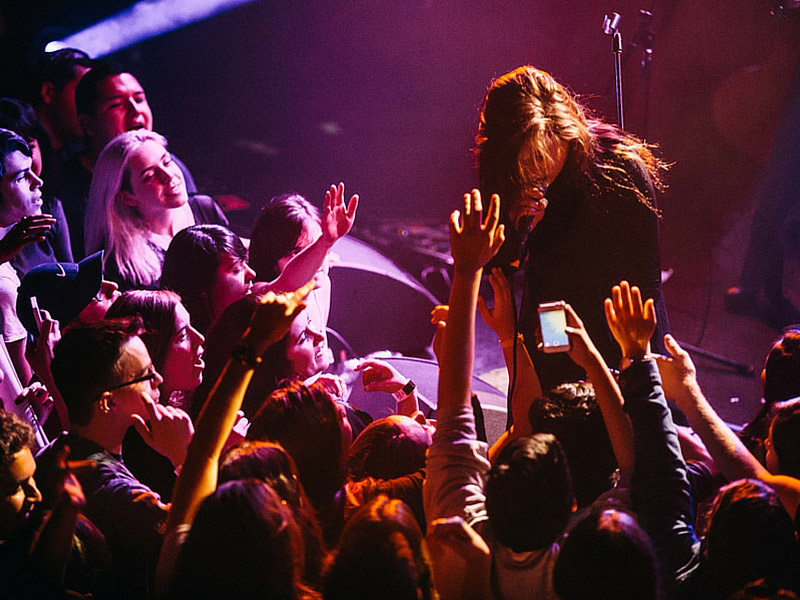 She says, "I kind of write based on what thoughts come to me. I don't sit down with a definite plan, it's all subconscious. It all comes together in the end and I see where I was going, whether it's something more topical or just thoughts drifting around."
I've never seen someone transform as much as when she gets on stage. She dances non-stop, casting a spell over the audience. She dominates the crowd. She sings David Bowie's "Heroes" but stops mid-song and tells everyone to close their eyes and scream. We scream twice on command. It's cathartic.
She says, "Sometimes I'll get a little antsy before I go on, a little jittery. I don't get nervous, I get nerves. I think it's always been something that seemed very organic to me. It's a blessing I guess. I feel at home on stage. I think there's a lot of honing in to my 'gift', I guess that sounds weird…my gift. That level of comfort on stage still isn't enough. I still have so much growth to do."
It IS a gift. So many musicians lack that presence. I recognize the intro to "Purple Rain"—a cover I was equally nervous and excited for. I've seen her do this before at SXSW but this was the first time since the death of the icon. It all came back to me. I hate to wax poetic on a single "Purple Rain" performance but there was something so brazen and empowering about her rendition. The way Chloe moves on stage without pause, and the look on her face when she sang "I never wanted to be your weekend lover, I only wanted to be some kind of friend…"—that moved me to tears.
Video by Camps
She's a powerhouse. I feel like women in music have to fit into a certain mold. As a young woman that's practically grown up on stage, it can be hard not to conform to certain stereotypes. But Chloe's tenacity and originality is exactly what I want all musicians to be. She's not trying to be anything but herself. Nothing about her feels fabricated or inauthentic.
Chloe talks about the two different, sometimes contradictory, types of feminism. "It's an interesting concept for me," she explains. "I think it boils down to who you are. It comes down to how they feel about it personally. I don't feel comfortable doing certain things and I'm very conscious of that, but it doesn't bother me when other people feel differently. It's up to them. It's all about choice and who you are."
In a breathy, gasping voice she sings "I remember when your sister died, slow motion on a satellite, you say you're leaving, but now I'm gonna find you, I'm gonna be a suicide, don't kill the light, Jenny don't kill the light." At the end of the show she raises her hands over us I feel like I'm being baptized. I don't know if it's tears or sweat that's streaming down her face but I'm melting down.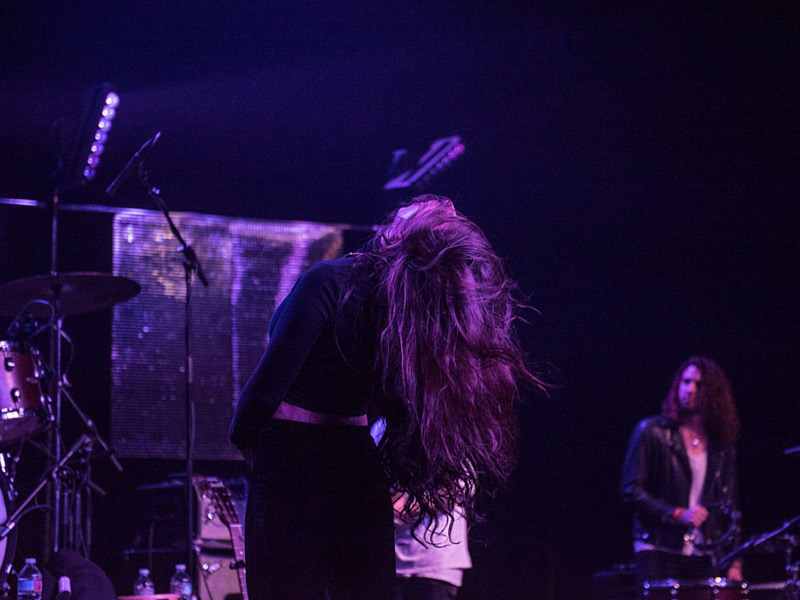 Three Links in Deep Ellum isn't the largest venue, but her fans are die-hard loyalists. I can see each of them looking at her in complete awe. Some wipe tears away, sheepishly, as she looks at them directly in the eyes—singing to them as if it was written for them. Chloe makes sure each person in the audience knows they are special, whether she's talking to them after shows or on Twitter where she responds to nearly everyone.
She says, "I see everything on Twitter, I try to respond as much as possible. I think even the bigger artists, they see everyone tweeting. If it makes someone's day that I retweeted them or said something to them, that's everything to me. It's not hard to do. We wouldn't be doing what we're doing now without our fans and their amazing support. If one of my favorite bands did that for me, it would mean everything. It's an easy way to acknowledge someone."
She's watched bigger acts on tour- how they dominate their audience – how it's different than what she's doing. She tries to learn from them, but the way she commands these smaller audiences is way more of a feat to me. She says, "When we do play big festivals or have a big opportunity, I'm thankful to have these smaller stages – to work on my connection with the audience because that's what makes the show, that connection."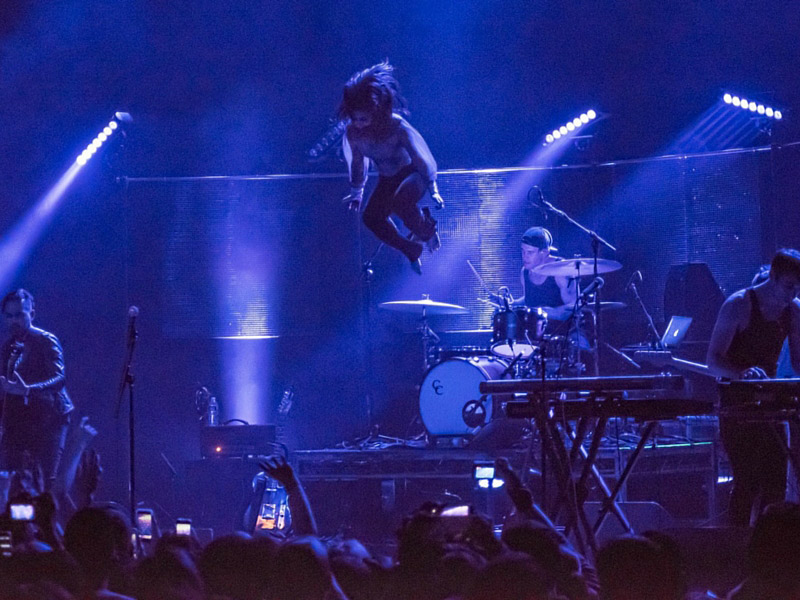 To command a stadium of people that paid a fortune to see you perform is easy. You already have them. To command an audience at a small venue means you have to win them over. Then maintain them. You have to captivate them so much that they NEED to see you again. That's what KITTEN does, and that makes all the difference in the world.
I can honestly say this show has been one of the highlights of my year, and may be the best show I've seen in my life. Please go follow them on Twitter, check out their website—and check it religiously to see if they'll be in your town soon—because you do not want to miss them:
Watch their beautiful video for "Fall On Me":
[widgets_on_pages id=Emily-Treadgold] [adsense]
[adsense]